Shaftesbury Capital invests in the heart of London's West End including Covent Garden, Carnaby, Soho and Chinatown.
Why London
Our portfolio is located in vibrant, high-profile and high-footfall destinations, including Covent Garden, Carnaby, Soho and Chinatown, close to the West End's major cultural and entertainment attractions, employment locations and transport hubs. These iconic destinations provide a seven-days-a-week trading environment and exposure to an extensive and diverse local, domestic and international customer base which has proven to be resilient throughout economic cycles.
As one of the leading global cities, London has the largest economy of any Western European city and generates around one quarter of UK GVA. Its population is estimated at 8.9 million, with forecasts of 9.5 million by 2030¹. Additionally, there is a similar population in south east England, within easy commuting or visiting distance. The breadth of its economy encompasses:
a leading global financial and commercial centre
a major hub for creative industries, from technology and life sciences to media
a globally-recognised location for education and research
home to world-class visual and performing arts facilities
an unrivalled variety of heritage and cultural attractions which draws large numbers of domestic and international visitors
At the heart of the city, the West End is a world-class destination for innovative and accessible dining, shopping, leisure, entertainment and culture.
The West End's huge working population, estimated at 768,000 in the City of Westminster alone2, makes it the largest employment centre in the UK and provides a regular, daily customer base for its hospitality, retail and leisure businesses.
The West End is at the heart of the capital's extensive transport network which makes it accessible to a wide catchment. The six underground stations closest to our destinations handle over approximately 200 million passengers annually3.
The central section of the Elizabeth Line opened in 2022 with a full service operating by spring 2023. At both Tottenham Court Road and Bond Street stations, passenger traffic has increased significantly. Our portfolio, located a short walk from these new interchanges, is well-placed to benefit from the material long-term increase in visitors and spending this new service is expected to bring.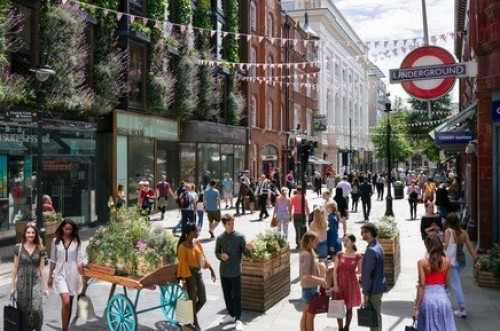 1. GLA Economics
2. City of Westminster
3. Transport for London