At Shaftesbury Capital we are committed to investing for the long term. We take a responsible and forward-looking approach, operating in an environmentally sustainable manner and supporting our local communities. Our goal is to become a Net Zero Carbon business by 2030 through an efficient "retrofit first" re-use and management of buildings. Re-using and enhancing existing buildings, rather than demolition and redevelopment, recognises that our buildings are long term carbon stores. Our sustainable approach increases energy efficiency whilst avoiding carbon emissions and use of materials associated with new construction.
Our focus area
Our sustainability ambitions focus on 4 key pillars, developed through understanding of the needs of our stakeholders and the areas where we can have the most positive impact through our business operations. We have identified the UN Sustainable Development Goals that are most applicable to our business and mapped these against our pillars.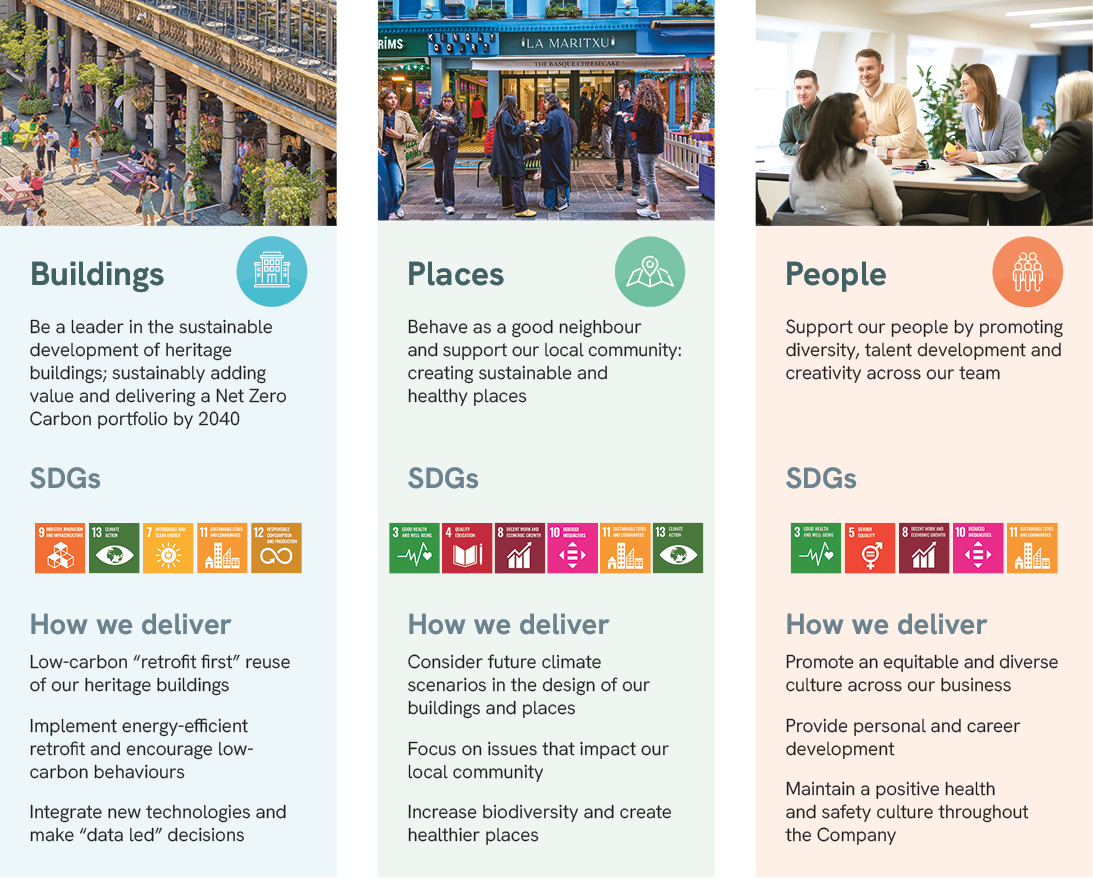 Embedding sustainability in our business and supply chains
Sustainability is a significant factor in the way we conduct our business and in our strategic and operational decisions. Our ESC Board Committee, chaired by Charlotte Boyle, a Non-executive Director, oversees the effectiveness of the implementation of our strategy and key commitments, such as our Net Zero Carbon 2030 goal and management of climate related risks and opportunities. Our executive level ESC Management Committee which includes senior executives from across the business chaired by Chris Ward, our Chief Operating Officer, is responsible for oversight and development of the Group's sustainability strategy and internal management approach, including associated policies.
We encourage our employees to participate in our sustainability activities across the business, including support of our community programmes.
We recognise that much of our impact is through our supply chain. We work with partners that reflect our own values on sustainability and expect them to follow our policies and other requirements. Our sustainability policies on environment, people and community are available here. Where historical sustainability commitments differed between Capco and Shaftesbury these will be aligned over the coming 12 months. The historical commitments, policies and requirements for constituent parts of the merged company will remain in force until this process is complete. A library of our historical commitments and policies can be found here.
Reporting our progress
Shaftesbury Capital is committed to transparency in its sustainability reporting. As separate companies we have reported in line with EPRA and set out our respective climate risks and opportunities in accordance with the recommendations of the Task Force on Climate-related Financial Disclosures (TCFD). Our TCFD reports, other industry benchmarks and scores can be found here.
We have historically participated in external sustainability indices and benchmarks that help us monitor our performance and identify opportunities for improvement. We will continue to actively disclose our performance and engage with the main sustainability benchmarks as the business moves forward.