As the largest Chinatown in Europe, Chinatown London is the go-to destination for regional Chinese and Pan-Asian cuisine. Its twelve predominately pedestrianised and interconnected streets, lined with iconic red lanterns, are home to an ever-evolving mix of traditional and new concepts which reflect emerging dining trends from cities such as Shanghai, Beijing, Tokyo, and Seoul.
Equally thriving day and night, the area's restaurants, bars, shops and cafés, as well as its unique mix of oriental supermarkets, authentic Asian retail stores and more, attract large numbers of Londoners, tourists, Chinese students and local workers.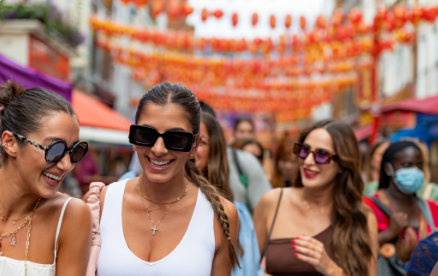 0.4m

sq ft
42

shops
95
hospitality and leisure concepts
39

offices
166

apartments
Our Ownership
Our ownership in Chinatown consists of 0.4m sq ft of lettable space. A landmark destination for foodies, it is home to 95 Chinese and Pan-Asian restaurants, bars, and cafés, complemented by an evolving retail mix made up of over 40 stores.
With its vibrant character, our apartments are popular with those looking to live in the bustle of one of London's West End's most enthralling neighbourhoods.
Our Heritage
Today's Chinatown's story begins with the Great Fire of London. In the panic to rebuild, attention turned to a military training ground on farmland. The area's owner at the time, Lord Gerrard gave permission for houses to be built. Gerrard Street was completed in 1685, then later a market hall and slaughterhouse were built.
Over many years it has been the centre for many [immigrant] communities, and from the 1950s, Chinese entrepreneurs began locating here. By the late 1960s, Chinatown was truly established as the epicentre of London's Chinese Community.